This past May I was lucky enough to test out the LG G Flex. Yes—I just said May. As in the start of spring. As in "April showers, bring May flowers". Yes, that May. For the sake of the reader, here's a short note about my tardiness on this review: I have had what some might call, a crappy start to the year. It's been riddled with broken ribs, car accidents, heart attacks, a friend who passed away unexpectedly and not to mention, heartbreak all around.
As you can imagine, I haven't found time to sit down and process my own original thoughts. Today however, I'm trying. Writing has always helped me to heal and in these past few months, I have truly missed writing on my own and diving into that other creative, thought process.  So without further adieu, let's discuss the LG G Flex.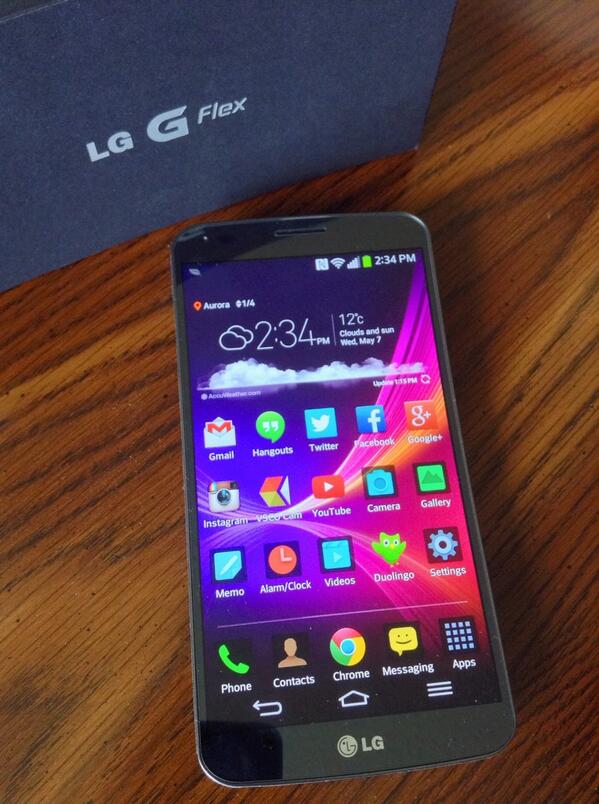 Earlier this year, LG released what they call, "the world's first, curved flexible smartphone". Known as the G Flex, the phone is ingeniously designed to fit not just in the palm of your hand, but the shape of your face for ergonomic comfort. Not only is this curved feature perfect for those long phone calls similarly to a home phone receiver, but its natural 6-inch (15 cm) designed screen is meant to fill up your field of vision for a rather alluring, panoramic viewing experience, while its high-quality OLED screen (coated with Gorilla Glass) offers an organically bright and vivid display. Even though its screen is incredibly crystal-like and crisp, there isn't much glare from reflections which is a big plus.
A lot of users complained about the poor display quality, and I did notice that. Because the resolution is quite low, there not only is a noisy look to the screen but a a slight graininess when there is any movement on the screen. That can make scrolling or even make watching a video kind of hard. To remedy that issue though, it's very easy but it will cost you a life…battery life, that is! In the Settings, you can crank up the Brightness (via Display) and when you hit around 80% or higher, you will actually see the grainy effect fade away. Is that worth it though to lose battery life and perhaps create eye strain?
As a writer, I always look for the best and most comfortable keyboard on a phone. The ease of typing is a big deal for me because I need to be able to return emails quickly and maintain efficiency with my work. With this phone though, I did have some difficulty, partially because I am so use to my BlackBerry Q10's classic QWERTY keyboard. No fault but my own. I'm still not accustomed to virtual keyboards even though I'm very good with the iPhone/iPod 5's. With that in mind, the keyboard on the G Flex does fill up the screen quite nicely, provides ample space between keys and is ergonomically conditioned for comfort and ease. It does remind me a great deal of the BlackBerry 10 keyboard though that was re-engineered for effortless and intuitive typing technology.
The phone itself resembles the LG G2 with its poly-carbonate shell but the only difference this time around is the curvature. Oh, and the fact that its back can heal like Wolverine. Well, sort of. The coating on the back of the smartphone is malleable enough to allow the surface to mold back into its normal form. I tried scratching it with my keys, the tip of a knife and within minutes, it was back to normal. The rate of healing speeds up with heat, so if you're living in Canada like me with wacky weather, colder climates will slow the rate of healing. However, t's an interesting technology but one I'm sure many other smartphones will soon employ and integrate into their own devices. After all, this kind of coating can be find on cars and is known to only heal surface scratches.
With the phone being curved, it's said that it can be bent flat up to 180 degrees for a limited period of time. Trying to bend it is hard enough, especially with the fear of the screen cracking and falling out of place. With its curve though, it's understood that the battery is too. Not only does it fit the uniquely shaped G Flex, but there's no other battery quite like it as it flexes along with the phone. The battery life is impressive and long-lasting. With my regular usage (comprising of Twitter, Instagram, Facebook, Gmail, and phone calls), the device hung around for 16 hours before dying. I downloaded The Simpsons: Tapped Out, played with that for a few hours and with my higher-than-normal usage, battery life went down to about 13 hours before hitting that 40% remaining mark.
The G Flex is great for multi-taskers (like myself) as it's got a smooth and seamless operating system that utilizes memory and space well. Thanks should be given to the Qualcomm Snapdragon 800 processor which is something I genuinely loved. It knows exactly how to process every task on the smartphone with incredible speed and never draining your battery. With its 2 GB of RAM, 32 GB of internal storage (able to utilize 23.7 GB of free internal storage), infrared emitter and full support for LTE and LTE Advanced where available, the Snapdragon processor makes the phone what it is.
Let's talk about the camera! I'm a big fan of cameras on phones because that means I don't have to carry too many devices in my purse. I love taking pictures and sharing them with friends, and I always want the resolution to be decent and something that captures a moment perfectly. The G Flex camera is 13 MP with 8x the digital zoom, and a 2.1 MP front-facing camera. It's a decent camera, but not the best. It's quick and responsive, which is always helpful when capturing those magical moments, but it's rather prosaic compared to other smartphone cameras. Check out the quality with some photographs I took below.
Click to Enlarge:
The selling point of this phone is definitely (and maybe solely?) the "curve". But I do sense some trouble with just the curve. Size matters in this case.
First of all, it's not a phone I would actually enjoy using. Why? Because it's really big. The phone is bulky and long, bigger than my hand, and reminiscent of a bulky 80s phone. In this modern day and age, 6″ is too big for a phone. There was great difficulty fitting into my purse too! I own a lot of purses though so I had to change purses and wear a larger one (obviously, not something I wanted to do since my phone shouldn't be the focal point of what goes into my purse). The thing is, I'm a jeans and t-shirt kind of girl too, so I love being able to just fit my phone in my back or front pocket whenever I run errands. The phone fits in my back pocket and hugs my curves, but I don't like that it shows I actually have a phone hiding in there. This isn't a phone that can fit completely in any pant pocket. Without offending anyone either, this feels like more of a man's phone than a woman's largely due to the fact of its size. I can definitely see it fitting into a man's suit or coat pocket, but nothing a woman would wear. This is a phone that greatly hinders portability even though it is very light in weight.
Another con is that this phone is ridiculously expensive. Without contract, it retails at $549 CDN (Rogers estimate) and $670 (US retail estimate). For everything that it is (almost like a tablet, actually—a phablet), I don't think it's entirely worth it as it's quite mediocre and offers the basics that any other phone, maybe even less. The appeal lies in the curve and the title of being "the world's first". In many ways, with the features and the price, it feels like consumers would be paying for a clever business stratagem care of LG. That being said, with how far this phone has come and what it can offer, it's evident that LG is working hard on enhancing the Android experience for users and showing great potential for the next best phone.
Thank you to Rogers Communications for allowing me to test out the LG G Flex! Follow @RogersBuzz and the #RogersSI hashtag on Twitter for more information about the LG G Flex and other Rogers products.